'Okhai' store at Ahmedabad wins the 'Best Store' Award

October 22, 2013
| | |
| --- | --- |
| | Okhai store at Ahmedabad wins the 'Best Store' award for the second consecutive year for its overall performance, décor and efficient sales personnel. |
| | Okhai is an initiative by Tata Chemicals Society of Rural Development (TCSRD) towards empowerment of rural female artisans in the Okhalamandal region. |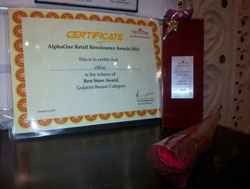 Mumbai: Okhai store at Ahmedabad that sells handicraft products such as handbags, curtains, kurtas and other apparels made by rural female artisans was conferred with the most celebrated AlphaOne Mall Award for 'Best Store' in the Gujarati Bazaar Category. The store set up by Tata Chemicals non-government organisation TCSRD, was felicitated with this award for the second year in a row.
The awards ceremony was held as a part of AlphaOne Mall's annual celebrations. The Okhai store was evaluated on the basis of consumer's perception towards the store and also on the sales generated in the last financial year. Over a 1000 consumers were queried during the survey to ascertain a comprehensive opinion towards Okhai's flagship store. The results were declared in consultation with a four-member panel comprising of eminent personalities who formed the jury for the awards. The juries personally interacted with the staff of the store to assess their skills of salesmanship and customer-support. Okhai was adjudged the 'Best Store' in Gujarati Bazaar Category based on its sales pattern, store merchandising and presentation of the staff.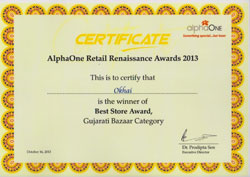 Commenting on this achievement, Premal Pandya, head, Okhai, Tata Chemicals, stated, "Okhai is a powerful brand that represents the hardwork of rural women artisans of Okhamandal villages and gives this region an identity. The 'Best Store' Award in Gujarati Bazaar Category signifies our commitment to not only bring to notice this beautiful form of art but also to encourage consumers to appreciate and patronise it. Our store is managed by adhering to professional conduct, which aims to provide artistic and high-quality products to our customers. I take this opportunity to congratulate all the members of the Okhai family and the invaluable support lent by Tata Chemicals and Tata Chemicals Society for Rural Development."
AlphaOne Mall is a shopping mall located at Vastrapur in Ahmedabad. The mall was opened in October 2011 and is the largest mixed used city centre in Ahmedabad. The Okhai store in AlphaOne Mall commenced operations on January 1, 2012 and has witnessed over a 1000 customers visiting them every month. Okhai products are also available at consignee outlets in Mumbai, Chennai, Bengaluru, Kolkata and Pune.
The Okhai project is supported by Tata Chemicals and TCSRD, which engages women in rural areas of West Gujarat, West Bengal and East UP. Over 400 women artisans are benefited by this project.