Tata Chemicals launches FarmGro and FarmGro G, innovative organic plant growth regulators

October 21, 2013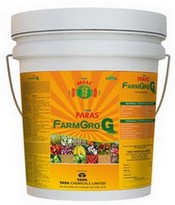 Pune: Tata Chemicals, a leading crop nutrition and agri solution manufacturer and marketer, announced the pan-India launch of FarmGro (foliar spray) and FarmGro G (granules). Introduction of these products will further strengthen the organic offerings in the Paras crop nutrition portfolio. FarmGro is a liquid product meant for foliar spray and fertigation. It is a combination product of many plant growth-promoting substances applied through the foliar route. Main ingredients of this product are amino acids, organically chelated micro nutrients and sea weed extract. This product is a premium product in the plant growth regulator category as it is mainly targeted at high-value horticulture crops and other cash crops such as cotton and sugarcane. This product is mainly targeted at the progressive farmers and growers in the states of Maharashtra, Gujarat, Madhya Pradesh and the southern states.
Key features of FarmGro
Bio-enzymatic conversion of proteins.
Increases flowering, pod formation and yield.
Enhances the metabolic function and crop yield.
Can be mixed with all commonly used pesticides.
Completely biodegradable and toxin-free.
Organic certification by Vedic Organic Certification Agency.
FarmGro G is a granular product meant for soil application, which enables application of plant growth substances through the soil route. This product is enriched with mycorrhiza, which facilitates faster nutrient uptake by the plant.
Key features of FarmGro
Increases nutrient uptake of the plant from soil.
Produces uniform seedling.
Significant role in nutrient recycling.
More tolerant to adverse soil chemical constraints which limits crop production.
Increases plant resistance to diseases and drought.
Stimulates the growth of beneficial microorganisms.
Improves soil structure.
Enhances the metabolic function and crop yield with quality.
Completely biodegradable and toxin-free.
Organic certification by Vedic Organic Certification Agency.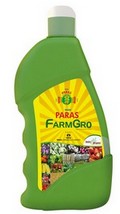 Speaking about the launch, DK Sundar, senior vice president, crop nutrition and agribusiness, Tata Chemicals, stated, "The introduction of Paras FarmGro and FarmGro G is based on an in-depth understanding of farmers' requirements where we found a clear need for a high-quality organic offering in this space. The FarmGro products have been designed to address this need and enable the farmer to efficiently use organic products for improving nutrient uptake and crop productivity."
Tata Chemicals has undertaken mass farmer awareness programmes and farm-level demonstrations in key target markets to explain the key features and benefits of the products, by offering first-hand user experience.